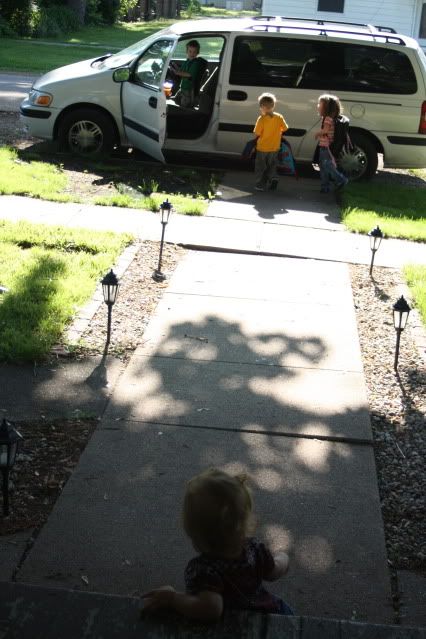 I have one hour left of freedom before summer
officially
begins (along with the decline of my sanity) and preschool is over. So what am I doing on this last day? Being a lady of leisure? no. Cleaning like a mad woman? no. I had no intention of even leaving the house today until I read
Megan's blog
and found out
that Big Lots had Thickers
. Some of you are wondering what is a Thicker? Well if you are a scrapbooker, it is about as necessary to own Thickers as it is scissors and adhesive. They are fancy letter stickers that come in foam, vinyl, fabric, chipboard, and epoxy. I use them on almost every layout for my titles. They come in a million fonts and colors. I have quite a few sets but one can never have too many of these and when Megan wrote they had them for $2 a pack, I got the baby up from her nap (she technically wasn't asleep yet) and off to Big Lots we went . . . 22 packages later I am home.
It was a Thickers emergency! Now in my defense 8 of them are for Keely. I almost didn't call her because she claims she owns almost every Thicker made . . . but I think that is not entirely true because she said she didn't have some of the ones Big Lots had.
The rest of my day was spent finishing our teacher gifts. I waited until the last minute to figure out what to give them even though about 2 weeks ago I started thinking about it. And in the last 48 hours I have changed the gift about 80 different times. I always go to the internet for ideas. At one point I was making a gift card wallet out of fabric scraps but I couldn't think of any place to get them gift cards and I have 5 teachers to give gifts so there wasn't time for big sewing projects and no place good around here for a $5 gift card. Next I was going to go the Bath and Body Works route but when I was at JoAnn Fabrics I was reminded I own these cute flower pretzel molds. So all I had to buy was the chocolate, pretzel rods, and some bags. I decided the flower theme would be good and found a tutorial to make these cute pins that you can wear on a jacket or shirt or pin on a purse or tote bag.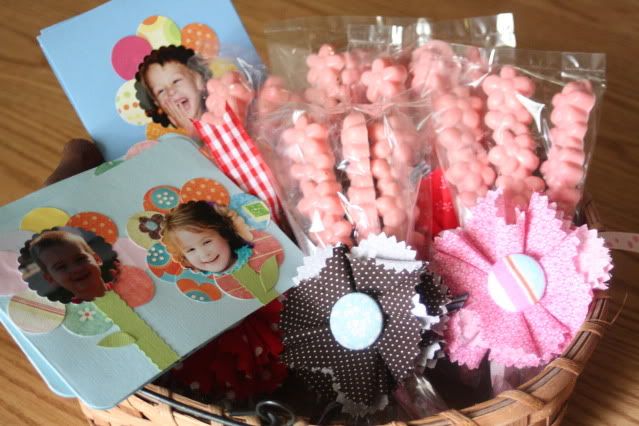 To top it off the kids helped me make the flower cards, with their photos in the center that say "thank you for helping me grow and bloom". I wrote the teachers each a note on the inside thanking them for all their hard work and patience with my kids. Our gifts aren't extravagant but as a former teacher I know it's nice to be appreciated even in little ways. After school today I am going to try to get a photo with each kid and each teacher too -- you know scrapbooking is always on my brain.
So that's my last day . . . oh yeah, I squeezed in a quick layout for LOAD (only 2 more days left).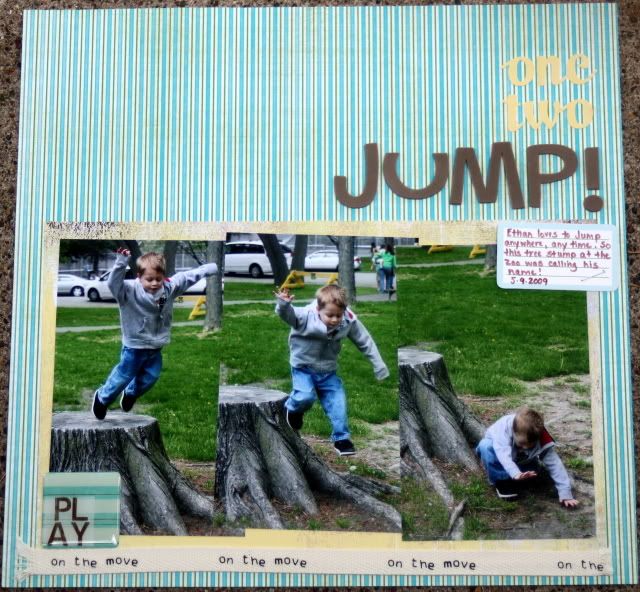 It's a lift from my new found friend also doing LOAD who has 5-1/2 year old triplets. It's fun to find another triplet mom who scraps too. She lives in California so we'll have to be computer friends.
I hope your day was productive too and that you don't have a Thickers emergency after reading this post!