Here's the scene at my house: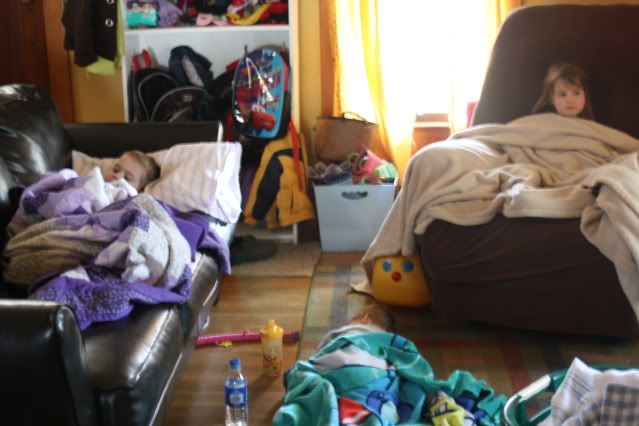 Yep, everybody sick, everybody but me (Thank God!) even Aaron has stayed home from work the last two days. Ethan started it all at 1am on Tuesday with vomit and diarrhea like every hour. He wore 5 pairs of jammies that night alone. In the morning I had to cancel everything: the cleaning lady, muffins with mom activity at preschool, preschool, and babysitting the neighbor girl after school. Even though Addison and Caden weren't sick yet, I figured it was to come.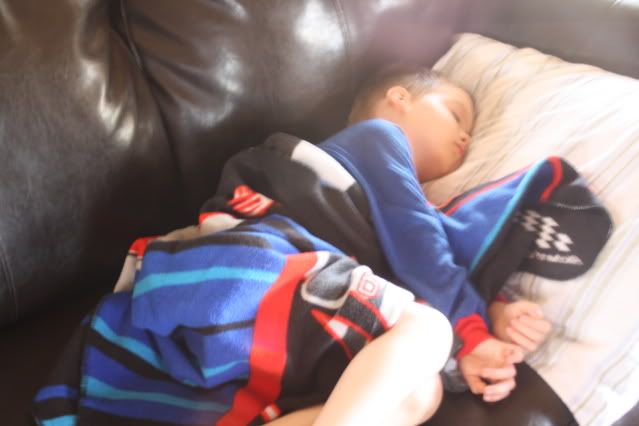 Then the little by little someone would get sick every hour or so, by 6pm everyone had thrown up at least once. Mostly the day was quiet as everyone slept and slept. I don't think Ethan has ever slept so much in his life combined. He pops awake every few hours in search of liquid and a person to help him drink it. Yesterday he snuck downstairs found a cup of milk on the table and drank it, of course you know I saw that milk again later.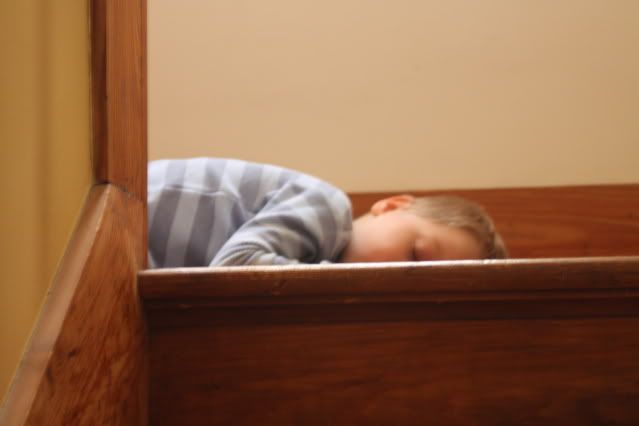 I put him in beds or on the couch then later I find him laying on the floor someplace . . .not sure why that's his choice but we just leave him. Nothing seems to phase Reese and even though she threw up once, still is going strong, I couldn't get her to be still long enough to get an unblurry photo. She is constantly screaming "eat, eat" but I'm trying to not to feed her a lot since I don't know if her tummy is ready yet.
Despite the fact that there's a lot of sickies here, I've kind of had a "stay cation".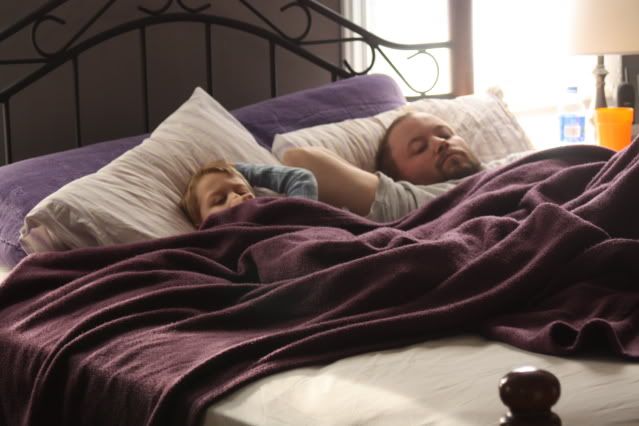 I decided yesterday that I wasn't going to try to do one thing while this was going on. So basically in between washing my
EIGHT
loads of laundry yesterday, cleaning up body fluids, and tending to giving drinks and medicine and back rubs, I just sat on the couch and did nothing. I cooked no meals and took two naps yesterday, held kids a lot of the day. It was quite the change of pace for me and I did relax a lot.
This afternoon, Aaron's perking up and Ethan's actually been awake for a couple hours now so I think they are on the mend although the kids still all have fevers of about 101-103. So we'll have another day at home tomorrow and maybe I'll sneak in a nap or two.