So the word today on the van is
maybe
it will be ready to go on Monday or Tuesday . . .
uhhh, what
? That's not what I expected or wanted to hear. That will make it 2 whole weeks without a vehicle. That means besides school, the kids haven't gone anywhere. I went to the grocery story and Shopko a week ago. I've been to the post office, I walked to school in the rain and cold more times than I care to count . . . oh, wait I forgot the title of this post . . . what good things have come out of this? There are some.
*We've spent less money which is really good because a few months ago the recession hit us hard and we are at the bottom of the bucket (I think our bucket may have a hole in it). So no impulse buying, no eating out, no buying groceries on sale because they are on sale.
*Our pantry, freezer, and refrigerator has been cleaned out. I mean there's space to add things usually there's not. Aaron stops at the grocery store when we NEED something usually bread, of course, and my diet mountain dew.
*There's a chance I may have lost weight. There's no food, there's no stopping through a drive through because I'm in town. I had cheese and crackers for lunch yesterday. Today I had an egg sandwich. I haven't actually gotten on the scale but I'm sure hoping it's a smaller number.
*I can keep on laundry.
*I'm not having a problem doing my LOAD project. Usually have it done during Reese's nap. Here's yesterday's project: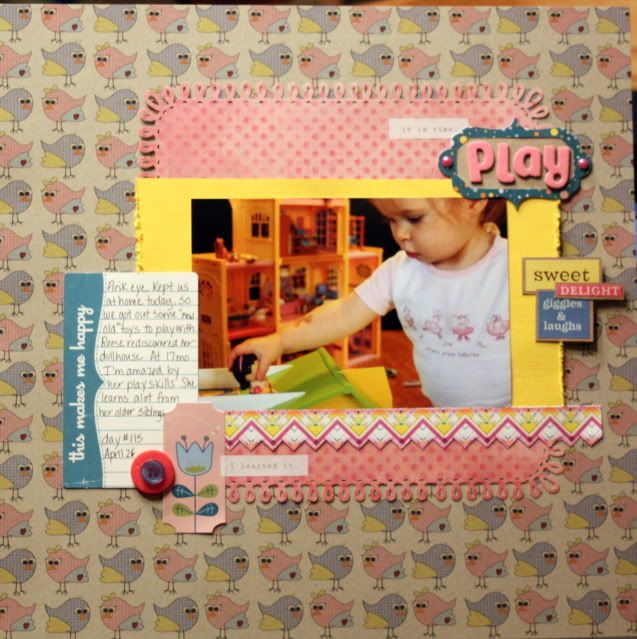 *I've caught up on my blog reading. I was way behind with more than 500+ posts. Now I'm under 200 (still a ways to go).
*I've got some Christmas ideas stirring around in my head just need to write it down on paper.
*I've got Reese's birthday party planned out and ordered a couple of little things for it.
*We haven't bought any gas for over a week. Aaron's driving the work van so
NO gas purchased
at all!
*The highlight of my day is the post office and this week has been especially good when I received 2 packages of happy mail. One from
May Flaum
who I discovered a couple months ago. I really like her scrapbook pages and her blog is fun. I took an online class from her at BPS and am thinking of taking her kit class next month too. My sis, Keely, sent me this package of fun goodies today.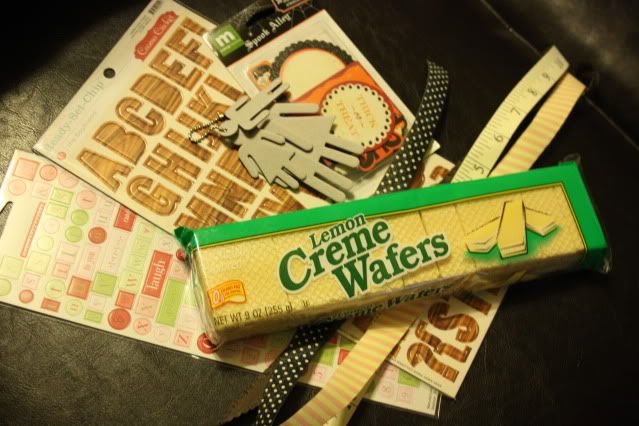 Of course I've ate half the package of those cookies today. They are so good probably won't be seeing a lower number on the scale now (see above). I wish everyday there would be fun stuff at the post office!
Don't ask about the condition of my house, I've never quite seen it this bad but I had all 4 kids home on Tuesday (low grade fevers) and then Ethan threw up first thing this morning so I kept him home today. I can't quite get ahead of them on the cleaning/picking up front.
So when you're out and about shopping and running errands and buying gas think of me . . . you know where I am: at home!