My sis, Keely, posted this on her blog and I thought I'd copy.
Outside my window...
It was really nice today for a change. Crisp and clear. There were tons of fluffy clouds in the bright blue sky. The leaves are really starting to change into all their colors -- I just love fall.
I am thinking...
about how glad that I am a stay-at-home-mom although it is very hard in lots of ways. Its a sacrifice for us financially but I wouldn't have it any other way. I love that I am not missing a thing with our kids and that Aaron and I are the biggest influences in their lives.
I am thankful for...
generous people like my sister-in-law, Ashley, for letting us borrow their van for the next few days so we can get out and about and my friend, Cathi, who just offered to give us their extra freezer so we can stock up on bread. I am thankful that Aaron was able to be on-call this month giving us some extra income that we really needed.
From the kitchen...
Not much went on there today, we didn't eat breakfast and we went to my in-laws for lunch and tonight Aaron went for a Buffalo Wild Wings run for a late movie date food for us after the kids went to bed. I like to cook but it's nice to get a break once in while.
I am wearing...
my PJs: flannel bottoms with blue and white stars and a pink old navy t-shirt. I am for comfort not for style.
I am creating...
a layout a day for my LOAD project . . . 17 days in a row.


I've got Christmas presents in mind that will take lots of creating time.
I am going...
to Tanner's Orchard tomorrow with Aaron's sister and her kids tomorrow. We're going to play, feed the goats, venture out into the pumpkin patch, and my favorite, pick apples.
I am reading...
tons of inspirational blogs. Megan Duerksen from whatever and Stephanie from NieNie Dialogues are 2 of my favorites. They are both moms of 5 and 4 kids, both have fabulous ideas to share, both are great photographers, and I find them both inspiring in very different ways. I love their positive attitudes and outlook on life.
I am hoping...
both our vehicles keep running for several more months, Ethan learns to write his name before kindergarten (God, please give me strength to work with him on this), and we can continue "to fit" in our house for a while longer without going insane.
I am hearing...
the movie, "Little Miss Sunshine", Aaron chewing on ice, and the furnace kicking on.
Around the house...
We stopped everything this morning and cleaned up the toys. I am ready to paint the dining room walls and we have a cement board floor in our kitchen waiting for ceramic tile. I moved a few pieces of furniture around yesterday and want to do some more just to change things up a bit. The kids are excited about Halloween and their upcoming birthdays.
One of my favorite things...
pumpkin pancakes.
A few plans for next week...
hopefully our van gets fixed, as well as Ethan's glasses, I get some photos ordered, and I start plans for the kids star of the week activities at pre-school.
A picture to share...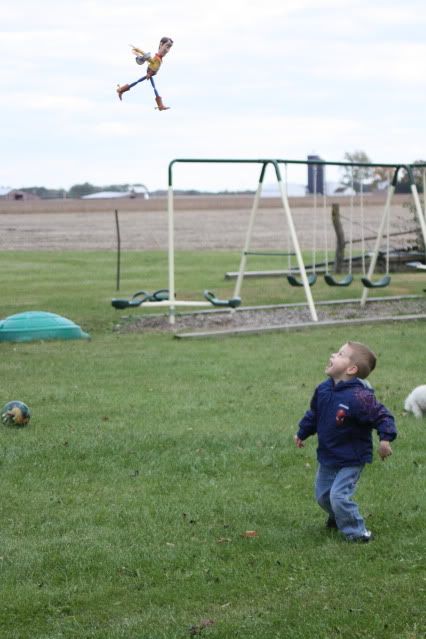 Hope you're weekend is as fun as ours.