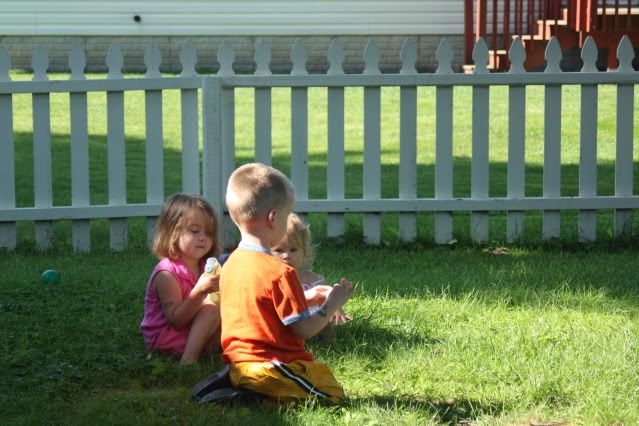 So after June being a super busy month I decided this week we were taking a break and that's what's happening we are just hanging out. I didn't even look at my purse calendar to see if we had any appointments, and I don't care if we are missing any.
Next week I want to get more into a schedule of sorts but staying home more. Summer is for relaxing, sleeping in, having fun. So exercise class can be skipped some, I'll try to forgo some dr appointments, things can wait. I feel like I done a ton at home this week already. We even went to Lowe's and the grocery store yesterday and then I decided we could go to McDonald's for lunch -- totally unplanned but Ethan didn't bring shoes with him??? So we ate at the park and we were going to play at the park, but there were a couple of incidents of hitting and running away so I said "forget it". I plan on taking them back tomorrow or Friday depending on the weather. Today it's pouring so we aren't doing much, somehow I managed to sleep until 9 am. I was awake a few times in there and I don't know which kid came up and finally said "Are you getting up yet?" Maybe I can stay up past 10:30 tonight?????
I have been longing for a vacation lately -- more like a staycation, kidless, husbandless, just so I could stay home alone and sleep in and do the thousands of projects I'd like to work on. I figured 2 weeks would be good. I have quilts to cut and make (still!), rooms to paint, projects coming out the ying-yang, and now I am doing a project on our porch, because I don't have enough to do! I know it's not gonna happen but I do have a little reprieve coming Keely and I are going to Scrapaganza's Favorite Things Crop on Saturday from 10am to midnight. Scrapbooking for 14 hours straight! Of course I haven't gotten one thing ready and really don't know what I will work on. I'm excited though. Not much scrapbooking going on this summer, just to hard to find time with the kids around. I'm really looking forward to Saturday!
I plan on blogging our 4th of July weekend but will try to do that in the next day or two. Here's a cute preview: