1. The yard sale was a success. We each made about $400. We sold almost every toy and the majority of the household stuff. We had a ton of stuff for a quarter so that's a lot of stuff! We only had a few boxes left for Goodwill. Our baby clothes that were in their 4th sale did not. No one wanted to dig through our GIGANTIC piles. We had ten garbage bags for Goodwill. I did keep some of the good stuff to resell at Once Upon a Child.
2. Our schedule this summer is busy . . . too busy in my opinion. Today however we have nothing planned and I think we will stay home all day . . . unless they start driving me nuts then we may go to a farmer's market. I always have a back up plan.
3. Swimming lessons are going great! They love it. I wish it was more than once a week . . . kinda of. Ethan slipped off the edge of the pool on Monday night and was bobbing up and down, it took the life guard a couple seconds to notice him. I worried that he would be "done" but it didn't affect him at all. Then they put the floaty things on their chests and he went swimming and was laughing and smiling. The teacher had to keep pulling him back he kept going farther and farther out into the pool. He cried and was really mad when lessons were over! A future swimmer possibly.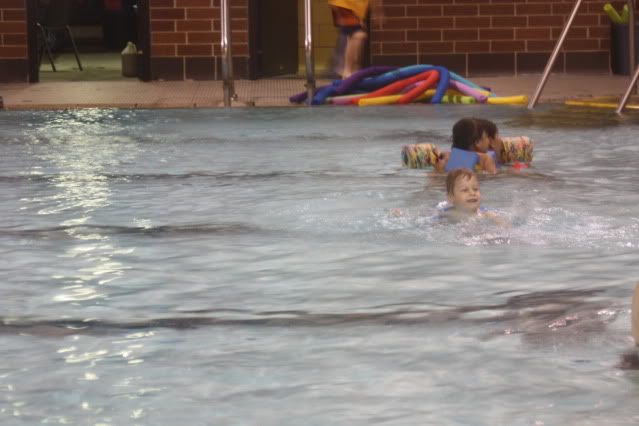 4. I'm still going on my GIST. I am not walking on Mondays. I hate getting up at 6 but once I get out there it's fine. I can already run for longer distances.
5. I still am not getting much done throughout the day when we are home. The day flies by. I am so tired by 8:30 . . . I really want to scrapbook again . . . but it doesn't look promising.
6. This not watching TV thing is a good thing. They don't complain, play outside lots, and it's somewhat quieter around here.
7. We're trying to plan a vacation for this summer. Not an easy task when we've never gone on one before. Aaron will only be able to miss a couple days' work plus add in the weekend it will be a 3 or 4 day get-a-way but I have some ideas. I'm not a vacation kind of person. I hate hotels and I hate staying in hotels with kids even more. We are excited about taking them somewhere and doing some fun things. Hopefully it all pans out.
8. The kids' room is getting closer to being finished. This now 6 month project only needs the bed painted (I think that's happening this weekend), 3 quilts made, a couple things hung on the wall and I have changed my mind on my vinyl ideas but still want something for their room and the dress up closet. I just found some cute curtains that were inexpensive and I didn't have to take the time to sew them. They look good.
9. My posts here may be few and far between since I can barely get on the computer at all, and the minute I do I have people asking "Mommy, can I play a game?"