#20 on my 40 Things List was to have a "No Spend Month". I got this idea from Rachael at
Small Notebook
. I've been reading
her blog
for a couple years and once a year (I think June) she has a no spend month where she sets an amount to live on. Her last goal was to stay under $250 for the whole month! This is only for groceries, gas, eating out, and spending money on things outside of your utilities, house & car payments, etc. I am going to say $250 is very low but Rachael had only one toddler (now she has 2 kids) and she lives in an apartment in a larger city in Texas where she can walk to shop.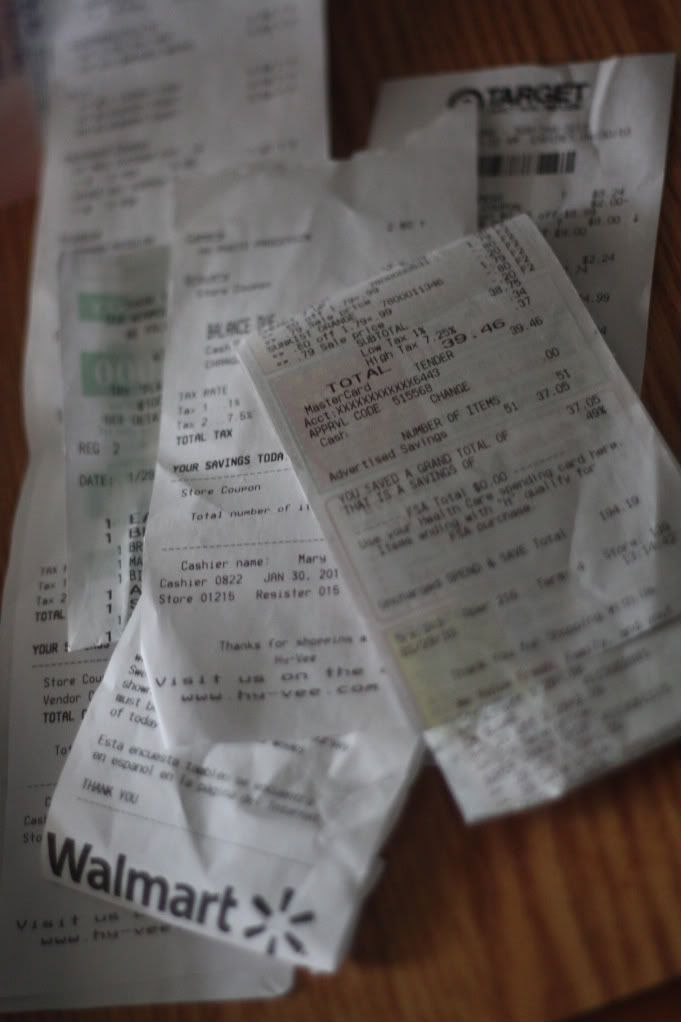 When I set my goal I knew there's no way we could live on $250. I thought we would spend more on gas than that since Aaron has an hour commute each way to work and we live in the middle of nowhere so we have no choice but to drive to most places. I decided that we would try to live under $550 for the month. We did well at the beginning. We didn't even eat out until Jan 9. However I didn't think about groceries. I stock pile groceries all the time. I only buy what's on sale and I stock up on sale items we use frequently. I mistakenly thought we could live out of the fridge and freezer mostly but I didn't take into account that with the holidays in December that I didn't do a lot of grocery shopping so there wasn't as much food as I thought we had. This month we spent almost $520 on groceries. Which when figured out for 6 people is only $2.80 per person per day! $2.80 won't even get you a value meal at McDonalds and it sure won't fill you up for the whole day. Aaron takes his lunch every day and the kids take their lunch about 3 times a week. So we definitely didn't make it under $550 we more than doubled it, spending $1186.
The break down was
Groceries: $520
Gas: $181
Eating out: $128
Other: $357
We definitely could have done better on the "other part" and we ate out 6 times for the $128 which is remarkable considering normally we spend about $40 every time we go out unless it's McDonalds then it's $25.
Once I realized we went way over the goal, I was mad and thought it was stupid to even try to do it. Then the more I thought about the more I realized it was a good learning experience for us.
1. We can find lots of things to do that really don't cost money but it takes planning. Normally on the weekends, if we don't have anything going on we tend to go out to eat then go to Walmart or Target and before you know it, we've spent an unplanned $100. Aaron took the kids on a play date one Saturday to his friends' house, we had a Wii party at our house with Ashley & Steve, we saved up gift cards to use for our monthly date. I even had passes to the Children's museum that we didn't get to use yet. We weren't deprived of doing things.
2. We can eat McDonald's for $10. We bring it home. The kids share an adult chicken nugget meal (we save Happy Meals as a special thing), Aaron and I each got $1 sandwich and split a large fry. Aaron said he was still hungry but I always say it's not your last meal and I guess we could have splurged for another $1 sandwich.
3. We didn't charge one thing on credit cards. We hadn't been charging for a long time and almost had them paid off. Then we had major vehicle issues that we didn't have money for so we charged it, then it was Christmas and we charged more. It's easy to get into that habit. I think this month broke that cycle for us once again.
4. I had grand ideas of spending less this month and having extra to sock away and there wasn't. Aaron's work has been slow and he's had his hours cut and even had to take about 4 days off (unpaid) this month. Even though our savings didn't increase, I realized that we weren't in the negative this month and we had paid extra on the credit cards too.
5. Putting off buying things can make you change your mind. I really thought I need a pink tree to decorate for Valentine's day. Now that I waited I don't think it's that important.
6. I "go" more than I thought I did and way more than I need too. This month I usually spent 4 week days at home and went to get groceries the other day. Putting all my errands together rather than going several saves time, money, and I get a whole lot more done at home.
7. Having to keep track and writing down everything you spend sure makes you think twice about your purchases. And gives you a real "snapshot" of what you are spending.
8. I lost 4 pounds just from eating out less! Whooo Hoooo!
And even though the "No Spend" month is over, I didn't go out the next day on a spending spree …. It's still going. I'm thinking that maybe we will do some "No spend Weeks" here and there throughout the year and maybe another "No spend Month" again this year (September?) and aim to keep under the last amount …. I should be able to do that huh? …. And this might just become an annual thing for us in January.