This weekend has been a hodge podge of whatever. Friday after Reese decided to have her baby go potty . . .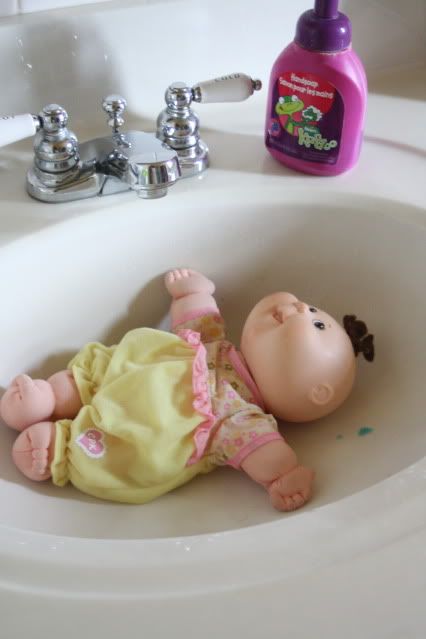 we picked up the kids from school and found out there had been a "fire". The electrician was checking the breakers and a paper was too close to the outlet and it ignited. Everything was fine. If I hadn't had to pick them up in a different building then I probably wouldn't have known because another mom asked me if my kids had told me about a snake in the school earlier in the week. No, not one of them mentioned it. I questioned them about it after school, turns out there was a snake that crawled in the front door or something and the superintendent took it out. I ask them everyday about school, what did they do, did they sing songs, what happened in centers, how was lunch, did you sleep at nap time, did you get all your stars, who are your friends . . . you'd think they were teenagers they never have anything to say except about whether they liked or disliked the food for lunch. So they won't even tell me about fires or snakes . . .
Aaron took the kids to his mom's house on Friday to give me a break and I scrapped some . . . no photo.
Saturday Aaron had a golf tournament for work. We worked in the yard more landscaping. We had a visit from Spiderman and he kissed Reesey.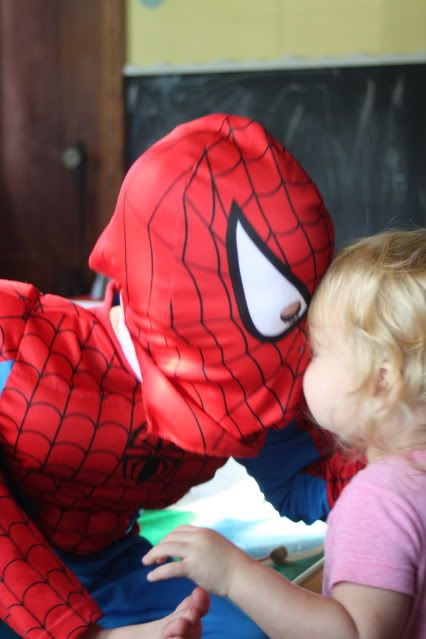 We went out to eat pizza and ice cream with Aaron's parents and sister and her family. It was fun. Ethan got the best surprise from Aunt Ashley
He is super into Woody from Toy Story. I don't even know why but this guy has hardly left his hand since Saturday night. I had to pry it out of his hand to go to Sunday school today. That's right: we're
now
religious. Well maybe not
religious
, but we're going to church. It's only our second week. I like it and the kids seem to do okay with it. Not a lot of young people or kids in church. Our neighbors asked us to try it. It's a little hard because everybody knows us . . . the triplet family thing but we don't know anyone really and no one tells us their names so I guess I'm just going to have to ask people who they are. I think I may have even scoped out a babysitter today who took Reesey to the toy room when she couldn't take church any longer. We need a babysitter!
The rest of today was filled with working on our kitchen floor. We bought the tile about 18 months ago. Working on the house is not Aaron's idea of how one should spend a Sunday.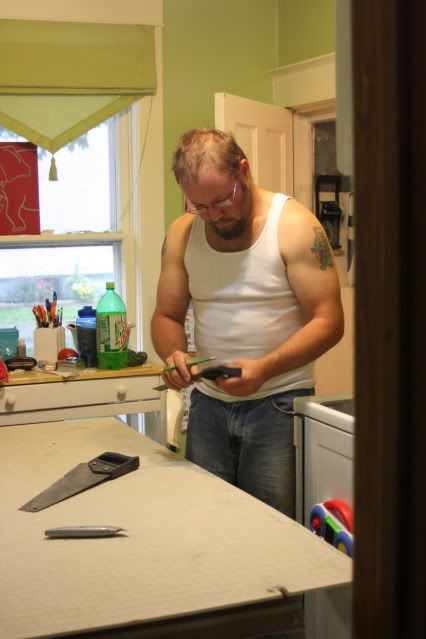 It took him all day to put the sub floor down but that was because every 10 minutes he had to stop and see what was happening in one sports event or another. I helped a little but mainly it was measuring and cutting. There was only one major fight followed by him apologizing to me 3 times. No divorce threats this time around. We'll see when it comes to putting down the tile as that may require more working together. Now I just need him to bring in one tile so I can see what we picked out . . . I don't remember 18 months ago . . . I sure hope I still like it.
We had a pot of chili too. 3 out of 4 kids ate it. Ethan wouldn't so Aaron put a little on his tongue and I thought he might throw up. It's definitely feeling like soup weather. I'm going to have to dig out some soup recipes.
Hope you had a great weekend too.