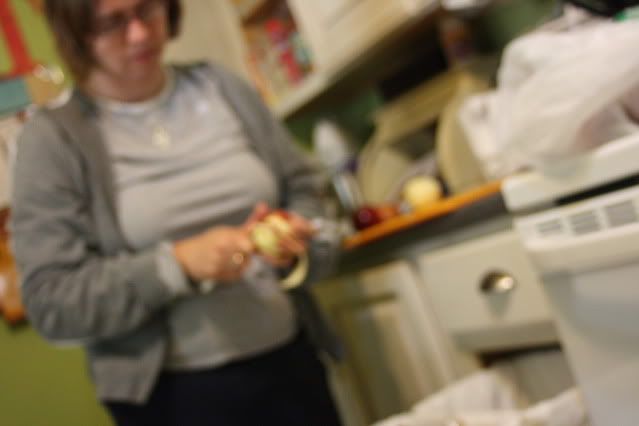 photo credit: Addison Murray
Today I was peeling apples to make an apple cake and it made me think of my Grandma. She was always baking and making food. Apple pies were always there at get togethers. I wonder how many pies she made in her lifetime. She also made really good applesauce. The kind with chunks of apples in it. I'm a chunky applesauce girl. When my mom made applesauce, it was really strained and thin, I think it was drinkable through a straw,
seriously
. I started thinking how I am like my grandma in other ways too. She had 5 kids. 5 kids in a TWO bedroom house. Lots of kiddos in a little house, that's me. She cooked alot and so do I. I think she enjoyed it or maybe it's just when you have a lot of children there's really no other choice since going out to eat is expensive and such an event. It's just easier to eat at home. Maybe when you have to do lots of cooking, you learn to enjoy it. That's me, I really like to cook (and eat). My grandma was really easy-going. As long as I could remember she never got frazzled or really upset by much. Kind of a go with the flow sort of gal. I
think
I'm a lot like that. Sure I get mad and upset sometimes but it takes a lot to ruffle my feathers. My mom is sort of the opposite of all that. She does like to cook and my mom cooked but eating out is her
thing
. She was more of a "career" woman; she had her own custom made drapery business and she cleaned houses . . . a different type of career woman but still she was and still is really into staying busy and working and going out to eat was part of her day most of the time. My mom is not an easy go-with-the-flow person. She loves a good fight and confrontation with anyone and everyone. If there's a scandal, she must be in the center of it. If there's no scuttlebutt, she might just start one. Kind of funny . . . so I wonder if this generation skipping is true will Addison and Reese be more like me or my mom? My grandma is a wonderful woman who worked hard for her family, she been suffering from Alzheimer's for the last seven or so years and she's been in nursing homes for most of those years. I miss her but remembering her as a strong and patient woman and it gives me a sense of closeness to her, thinking we share some of the same attributes.