Oh can you believe there are 11 days to Christmas? I can't. I have SOOOOO much to do. Like shopping for the kids (mine and neices and nephews) and making about one million things plus my Christmas cards, I have one done, ONE and I only have that one done because I have to give it to my cleaning lady tomorrow when she comes. Last minute, every time. If I told you some of the things I still have to make in the next 11 days you'd be like, "WHAT? Have you lost your mind?" Yes, I have and I will get them done. Of course, the kids only have 4 more days of school left and if they would quit being sick and sleeping in my bed it would be better. I took Reese in twice yesterday on a Sunday. Once to a clinic that I will not take my children back to again then to the ER where she was diagnosed with croup as I had told the first place and double ear infections (the first place said her ears looked good). She is now on 4 medications and eye drops ... Addison had a fever today too ... I am doing a project at school with the preschoolers that requires me to take photos of each child. The plan was to go today but 2 sick kids prevented that. Oh yeah and did I mention I haven't really shopped yet and I have lots of sewing to do? I did? Oh, I'm trying not to feel stressed though, one day at a time, remember to breath. It will get done, I will probably have to give up some sleep but I'll wait until the last minute to do that.
But this may put me over the edge....
that's our cat IN the tree. I couldn't get a good photo but this photo is of the
top
third of our tree. She has started climbing from the bottom up and then once high enough she pokes her head out, knocking off ornaments, pulling out limbs, tearing down the lights and garland. She has a death wish. Snoopy is definitely on Santa's naughty list ... no gifts for her!
And here's a guy that's on the nice list: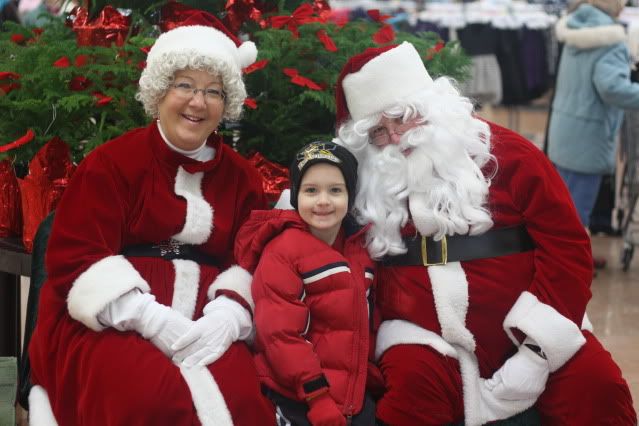 I hope your holiday season is more
wonderful
than
stressful
.